Introduction:
An anime adaptation has been announced for the manga Kanojo, Okarishimasu (I'd like to Borrow a Girlfriend) by Miyajima Reiji. The news comes with a promotional video and a teaser illustration of the rental girlfriend in question, Mizuhara Chizuro. The main cast have also been announced, with Amamiya Sora playing Chizuru and Horie Shun as Kazuya. Directing the series will be Koga Kazuomi with animation by TMS Entertainment. A full list of the main staff is written at the bottom of the article. You can also check out the visuals of each of the main characters of the anime down below, along with their voice actors. The anime is listed for a July 2020 start, with more information to come in the future.
Key Visual: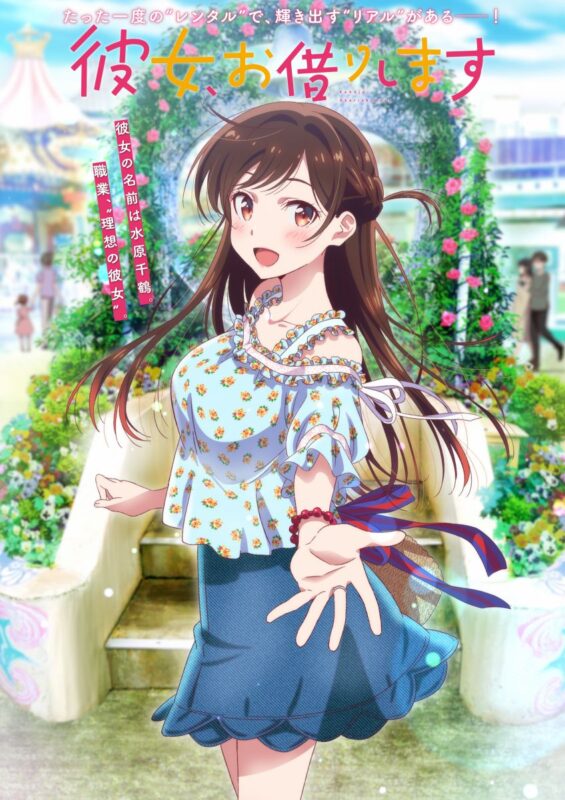 Main Character Visuals:
Mizuhara Chizuru (VA: Amamiya Sora)
Kinoshita Kazuya (VA: Horie Shun)
Sumi Sakurasawa (VA: Rie Takahashi)
Nanami Mami (VA: Aoi Yuki)
Sarashina Ruka (VA: Toyama Nao)
Synopsis:
Kazuya Kinoshita is a good-for-nothing 20 year student. He gets dumped by his girlfriend of one month after kissing her only once.
"Ah~ It's over… I can't take any of this…"
In the throes of despair, Kazuya decides to go on a date with a girl via a 'certain method'. He makes it to the meet-up spot when he hears "You're Kazuya…right?"
A beautiful girl puts her shiny black hair behind her ears as she calls out to Kazuya with a smile on her face. Her name is Mizuhara Chizuru.
There is brilliant reality in a single rental!
It's full speed ahead on a reckless, heart-thumping love story!
Staff・Cast:
Staff
Original creator: Miyajima Reiji (Mangaka)
Director: Koga Kazuomi
Series Composition: Hirota Mitsutaka
Character Designer: Hirayama Kanna
Music: Hyadain
Animation: TMS Entertainment
Cast
Mizuhara Chizuru: Amamiya Sora
Nanami Mami: Aoi Yuki
Sarashina Ruka: Toyama Nao
Sakurasawa Sumi: Takahashi Rie
Kinoshita Kazuya: Horie Shun
Web:
Official Website: https://kanokari-official.com/
Official Twitter: @kanokari_anime